The start of a new year, means it is time for the bond king Jeff Gundlach, CEO and CIO of DoubleLine, to address investors and the broader market in his live webcast which is open to anyone, and which this time is titled "aqualung", perhaps in reference to traders' ability to thrive while being flooded by central bank liquidity.
As a reminder, courtesy of Bloomberg here are some of the predictions Gundlach made in his "Just Markets" presentation in 2020.
He said his strongest market conviction is that the then-resilient dollar will weaken. He said growing U.S. government and trade deficits, a steepening yield curve and a pull-back in foreign investment may finally hit the currency.
On broader stock and bond market returns he said he didn't expect 2020 to come "anywhere close" to 2019, when virtually all major assets delivered once-a-decade. "It won't be the roaring '20s and it won't be the boring '20s," he said.
He said investors could expect higher volatility.
Bitcoin could climb as high as $15,000 in 2020.
Forward economic indicators are "flashing yellow" for recession, the bond manager said. He continued to put the odds of a U.S. recession by the end of 2020 at 30%-35%, though he warned that the probability would rise if there's lower purchasing managers and consumer confidence data as well as higher unemployment.
One topical observation he made last time, is to watch out if the 10-year yield gets above 1%, because it will then head straight for 2% unless the Fed steps in. This is relevant because the 10Y yield has climbed notably since it crossed that threshold after Georgia's elections last week, and today approached 1.20% before reversing sharply after today's strong 10Y auction. That suggests buyers are ready to step up as the market weakens, which may slow the yield's climb.
As usual, the webcast can be followed by clicking on the image below and registering for the free webcast…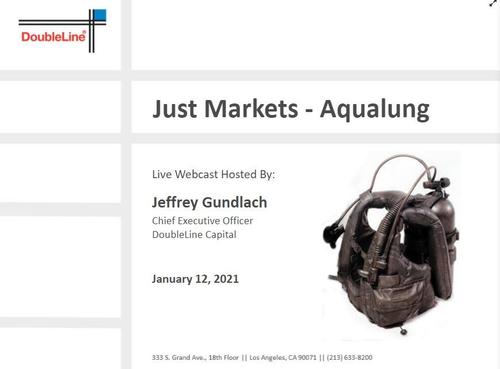 … and we will try to point out any of the more notable observations brought up by the DoubleLine billionaire.
Read MoreZeroHedge News
Visited 49 times