Iran's President Hassan Rouhani on Wednesday slammed the Biden administration's lack of initiative in rejoining the 2015 nuclear deal, in contrast to Biden's previously hyping such a move as he sought election (which he used to set his foreign policy vision apart from Trump's on the campaign trail last year).
Rouhani said in his latest remarks he's seen "no serious efforts" from the Biden White House on reviving the JCPOA. He called out the apparent hypocrisy in Biden's denouncing Trump's "maximum pressure" campaign while yet still keeping full sanctions in place.
Earlier this week Politico revealed a new Biden administration proposal in the works which would partially lift sanctions in exchange for an immediate reversal of some key nuclear deal violations on the part of Tehran, especially a reversal of its 20% uranium enrichment. Further, it would require Iran shutting down use of its advanced centrifuges.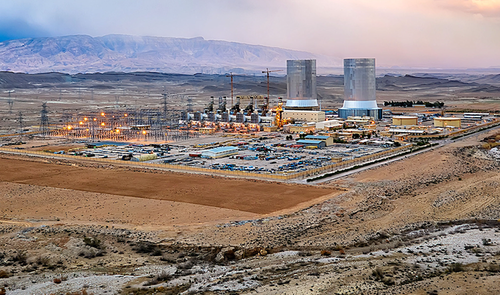 Officials told Politico that the new US plan is expected to be pitched as early as this week; however, it appears Iran has already preemptively rejected it, reiterating its demands that all sanctions be dropped first as part US compliance to what it previously agreed to in 2015.
Iranian Foreign Minister Javad Zarif said in a recent interview which underscored that the Islamic Republic can no longer trust the United States: "If the U.S. passes the test of [the 2015 deal], which doesn't seem very likely, then we can consider other issues." He added: "But I don't think the U.S. would be prepared to discuss those issues. Is the U.S. ready to reduce its arms shipments to the region?"
Politico detailed of the sensitive timing of Biden's new proposal:
"Iran is poised to blow through additional nuclear deal restrictions in the next few weeks. This is the crucial time to avoid an escalation of the situation," said Daryl Kimball, executive director of the Arms Control Association, an organization that has closely tracked nuclear negotiations involving Iran.

One reason for a sense of urgency among some U.S. officials as well as those outside American government is that Iran holds presidential elections in June, with campaign season kicking off in May. The politics surrounding the 2015 nuclear agreement are very sensitive in Iran, so the theocratic regime there is unlikely to allow any major moves on it amid a campaign.
Meanwhile the clock is ticking, given Iran's latest further uranium enrichment breach of JCPOA caps.
On Thursday morning Reuters is reporting that Iran has "started enriching uranium with a fourth cascade of 174 advanced IR-2M centrifuges at its underground Natanz plan."
"On 31 March 2021, the Agency verified at FEP that: Iran had begun feeding natural UF6 into a fourth cascade of 174 IR-2m centrifuges," the International Atomic Energy Agency said in the report dated Wednesday, referring to the underground Fuel Enrichment Plant and to uranium hexafluoride, the form in which uranium is fed into centrifuges for enrichment.
The report says the fresh information is based on new International Atomic Energy Agency (IAEA) findings obtained by Reuters.
Read MoreZeroHedge News
Visited 19 times