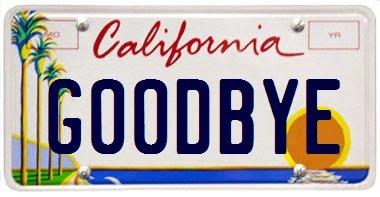 Summary:
WHO says outbreak in Iran likely worse than official numbers suggest; outbreak could go in "any direction"
Cali monitoring 8400, 28 cases in the state
China reports 327 new cases and 44 new deaths on Thursday
Dozens of hospital staffers who treated US coronavirus patient with 'unknown' origin being 'monitored'
Facebook cancels annual 'F8′ developers' conference
700 in New York asked to 'self-isolate'
Iran confirms 26 deaths, vice president for women and family affairs infected
The Netherlands has confirmed its first case
Northern Ireland confirms first case
Norway confirms three new cases
Germany confirms 14 new cases
Lagarde: Not yet time for ECB to intervene to fight economic backlash of outbreak
HHS says risk to public remains "low"
Italy reports 3 more deaths, bringing total to 17; total cases hit 650
Pence, Azar appoint Mnuchin, Kudlow & Surgeon General Adams to Coronavirus Task Force
Starbucks says it has reopened 85% of Chinese restaurants
Azar: Sonoma case might be 'community transmission'
Salvini meets with Italian president amid national unity government speculation
South Korean new cases surpass China's new cases as SK confirms 505 new cases
China, Japan close school nationwide
CDC fears 'community outbreak' in Sonoma County after discovering first US case of "unknown origin"
CDC says patient from Solano county
Saudi Arabia suspends pilgrimages to Holy Sites
Hawaiian Airlines suspends service to South Korea
Brazil's neighbors take steps to keep virus out
* * *
Update (1900ET): Chinese health officials have released the latest numbers, and once again, demonstrated a sharp drop. Once again, it appears the latest number of new cases – 327 for the whole country – is the lowest daily report since the crisis began. Notably, officials only reported 14 new cases outside of Wuhan.
MAINLAND CHINA REPORTS 327 NEW CONFIRMED CASES OF CORONAVIRUS ON FEB 27 VS 433 ON FEB 26
CHINA'S HUBEI PROVINCE, EPICENTRE OF CORONAVIRUS OUTBREAK, REPORTS 318 NEW CASES ON FEB 27 VS 409 ON FEB 26
MAINLAND CHINA'S TOTAL NUMBER OF CONFIRMED CORONAVIRUS CASES HITS 78,824 AS OF END-FEB 27
CHINA'S HUBEI PROVINCE, EPICENTRE OF CORONAVIRUS OUTBREAK, REPORTS 41 NEW DEATHS ON FEB 27 VS 26 ON FEB 26
MAINLAND CHINA'S TOTAL NUMBER OF CORONAVIRUS DEATHS REACHES 2,788 AS OF END-FEB 27
DEATH TOLL FROM CORONAVIRUS OUTBREAK IN CHINA'S HUBEI AT 2,682 AS OF END-FEB 27
Here's the NHC press release, translated via Google:
At 04:00 on February 27, 31 provinces (autonomous regions, municipalities) and the Xinjiang Production and Construction Corps reported 327 new confirmed cases and 44 new deaths (41 in Hubei, 2 in Beijing, and Xinjiang Production and Construction Corps 1 Cases), newly added 452 suspected cases.

On the same day, 3,622 cases of discharged patients were cured, 10,525 close contacts were released from medical observation, and 394 severe cases were reduced.

As of 24:00 on February 27, according to reports from 31 provinces (autonomous regions and municipalities) and the Xinjiang Production and Construction Corps, there were 39,919 confirmed cases (among which 7,952 were severe cases), 36,117 cases were discharged from the hospital, and 2,788 were dead cases A total of 78824 confirmed cases were reported, and 2308 suspected cases were reported. A total of 656,054 close contacts were traced, and 65,225 close contacts were still in medical observation.

There were 318 newly confirmed cases in Hubei (313 in Wuhan), 3203 cases of cured discharges (2498 in Wuhan), 41 deaths (28 in Wuhan), and 36,829 confirmed cases (30,179 in Wuhan). Among them, 7633 cases were severe cases (6775 cases in Wuhan). A total of 26403 discharged patients were cured (15826 in Wuhan), a total of 2682 deaths (2132 in Wuhan), and 65914 confirmed cases (48137 in Wuhan). There were 332 new suspected cases (295 in Wuhan) and 1989 suspected cases (1488 in Wuhan).

A total of 135 confirmed cases were reported from Hong Kong, Macao, and Taiwan: 93 cases in the Hong Kong Special Administrative Region (26 cases discharged, 2 deaths), 10 cases in the Macau Special Administrative Region (8 cases discharged), and 32 cases in Taiwan (6 cases discharged, 1 case died).

* * *
Update (1655ET): More comments from CDC Director Redfield are hitting the tape. His focus: the virus's ability to survive on surfaces.
CDC DIRECTOR REDFIELD SAYS WE ARE AGGRESSIVELY EVALUATING HOW LONG CORONAVIRUS CAN SURVIVE AND BE INFECTIOUS ON SURFACES
CDC DIRECTOR REDFIELD SAYS CORONAVIRUS SURVIVAL TIME ON COPPER AND STEEL SURFACES IS "PRETTY TYPICAL… ABOUT 2 HOURS", OTHER SURFACES LIKE CARDBOARD OR PLASTIC IS LONGER
CDC DIRECTOR REDFIELD SAYS CORONAVIRUS SURVIVAL ON SURFACES MAY HAVE CONTRIBUTED TO OUTBREAK ON DIAMOND PRINCESS CRUISE
CDC DIRECTOR REDFIELD SAYS CORONAVIRUS SURVIVAL ON SURFACES MAY HAVE CONTRIBUTED TO OUTBREAK ON DIAMOND PRINCESS CRUISE
* * *
Update (1640ET): It looks like the CDC is responding to a critical NYT story published late Wednesday that exposed the agency for waiting days to test the California patient whose coronavirus infection seemingly has no ties to China, or any other cases, which means she may have contracted the virus domestically from an unknown source.
The CDC said Thursday evening that they will start testing people with unexplained, severe symptoms. The patient in question was reportedly already on a ventilator when she arrived at UC Davis, where they are currently being kept in isolation.
Moving away from China, it looks like the number of new cases ex-China will once again surpass the number of mainland cases on Thursday.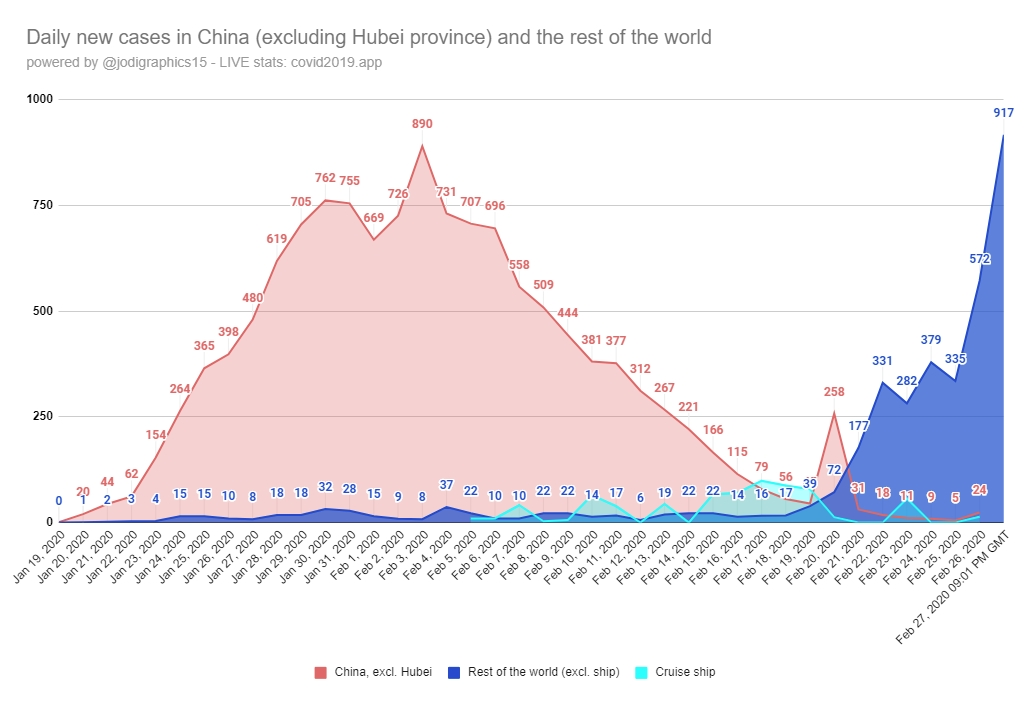 * * *
Update (1535ET): Robert Redfield told Congress on Thursday that the CDC revised its definition for "persons under investigation". In other words, the US is possibly taking a play out of China's playbook to limit the numbers of people declared to be 'under surveillance'.
CDC DIRECTOR REDFIELD TELLS CONGRESS THAT CDC REVISED ITS CASE DEFINITION FOR "PERSONS UNDER INVESTIGATION" FOR CORONAVIRUS
This comes after the NYT reported earlier on Thursday that the patient in California with the case of "unknown origin" wasn't tested for days because of restrictive federal criteria.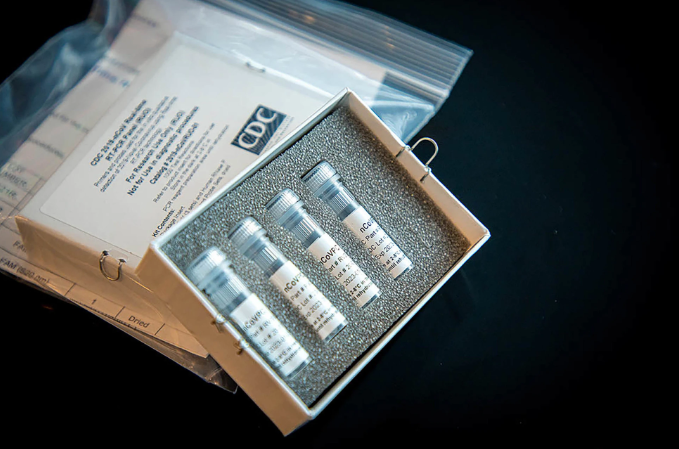 Photo of coronavirus testing kit
* * *
Update (1520ET): The Netherlands has confirmed its first case.
* * *
Update (1515ET): Mike Pence, the new captain of Trump's virus-response team, said that according to the government's "best estimate", the virus threat remains low.
If you keep saying it, it will come true.
* * *
Update (1450ET): 700 people in New York have been asked to 'self-isolate' for two weeks because of coronavirus fears, according to the New York State Health Department.
Over in Italy, Angelo Borelli, the head of the Italian Civil Protection, said 650 people have now tested positive for the virus as total cases increased by roughly 50% on Thursday.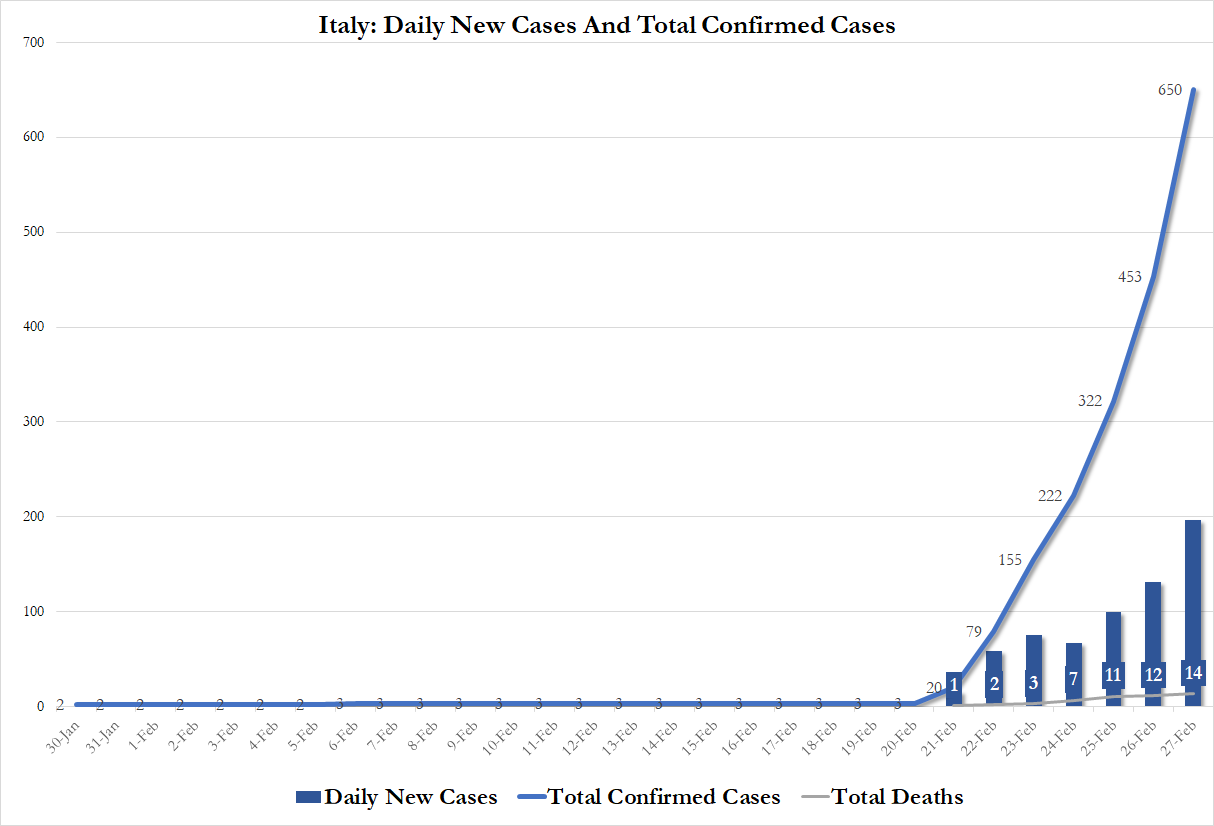 Explaining the sudden jump, Borelli blamed Lombardy for not "properly updating" the Italian Civil Protection Agency – in effect, confirming that local officials were hiding or concealing cases, whether deliberately or inadvertently.
"The big jump from yesterday (Wednesday) is because yesterday we didn't have the latest numbers from Lombardy," he said.
Some 35,000 masks have been sent to the affected areas, he added.
* * *
Update (1430ET): The Modesto Bee reports that UC Davis Medical Center in Sacramento, the hospital where the mysterious coronavirus patient with no link to China is being treated, has told several workers exposed to the virus to stay home and watch for symptoms.
Below, we reported some of the comments from Gov. Newsom's 11 am PT presser. He also insisted that the chances of an outbreak in California are "extremely low", and that the state is not planning on making an emergency declaration.
"Right now, I don't think it's necessary," he said.
Otherwise, the paper added, it's just "business as usual" at the UC Davis Medial Center (we're sure the thousands of freaked-out patients and staff would agree).
The hospital first became entangled in the crisis after local and federal health officials confirmed that the facility on Stockton Boulevard was treating the first US case of COVID-19 from an unknown origin.
* * *
Update (1405ET): France has reported its 38th case, as 20 new confirmations are announced.
FRANCE NOW HAS 38 CONFIRMED CASES OF CORONAVIRUS – FRENCH HEALTH MINISTER
* * *
Update (1355ET): Norway has confirmed three more cases as the flow of coronavirus news accelerates dramatically.
Finally, some good news on Thursday: Apple CEO Tim Cook says he believes China is getting the coronavirus outbreak under control: "It feels to me that China is getting the coronavirus under control" during interview with Fox Business Network's Susan Li.
* * *
Update (1250ET): Minutes after Newsom's disturbing confirmation, the Trump Administration, in an obvious attempt to pump the market, leaked their plans to use the 'Defense Production Act' to force American companies to start manufacturing protective masks and other medical supplies.
When those kits are available (hopefully within a few days) we'll likely see HUNDREDS of newly confirmed coronavirus cases, and scores more daily.

Before you "bargain hunt" just 10% off an all-time bubble high, think about what THAT will do to stocks.$SPY $QQQ https://t.co/oooWsIkmZR

— Mark B. Spiegel (@markbspiegel) February 27, 2020
This is critical since the supply chains across China have collapsed.
EXCLUSIVE-TRUMP ADMINISTRATION DISCUSSING USING DEFENSE PRODUCTION ACT TO COMPEL COMPANIES TO RAMP UP MANUFACTURING OF CORONAVIRUS PROTECTIVE MASKS AND CLOTHING -OFFICIALS
Meanwhile, health officials have just confirmed the first case in Northern Ireland, bringing the UK total to 16.
* * *
Update (1345ET): As the hysteria surrounding the mysterious coronavirus case in California with no obvious connection to China mounts, California Gov. Gavin Newsom just confirmed that the state is 'monitoring' 8,400 people. Given the lack of context, the market is clearly assuming the worst, as stocks puke.
He also confirmed that there are 28 people infected in the state. All told 33 people tested positive in the state, but 5 have been moved out-of-state. Whether this includes any new cases is unclear.
Newsom assured the state that the CDC promised to speed processing of coronavirus tests.
He also warned that the state has an "inadequate" supply of testing kits.
"We have just a few hundred testing kits in the state of California … That is simply inadequate," Gov. Newsom said.
Stocks have puked, spoiling the intraday rally.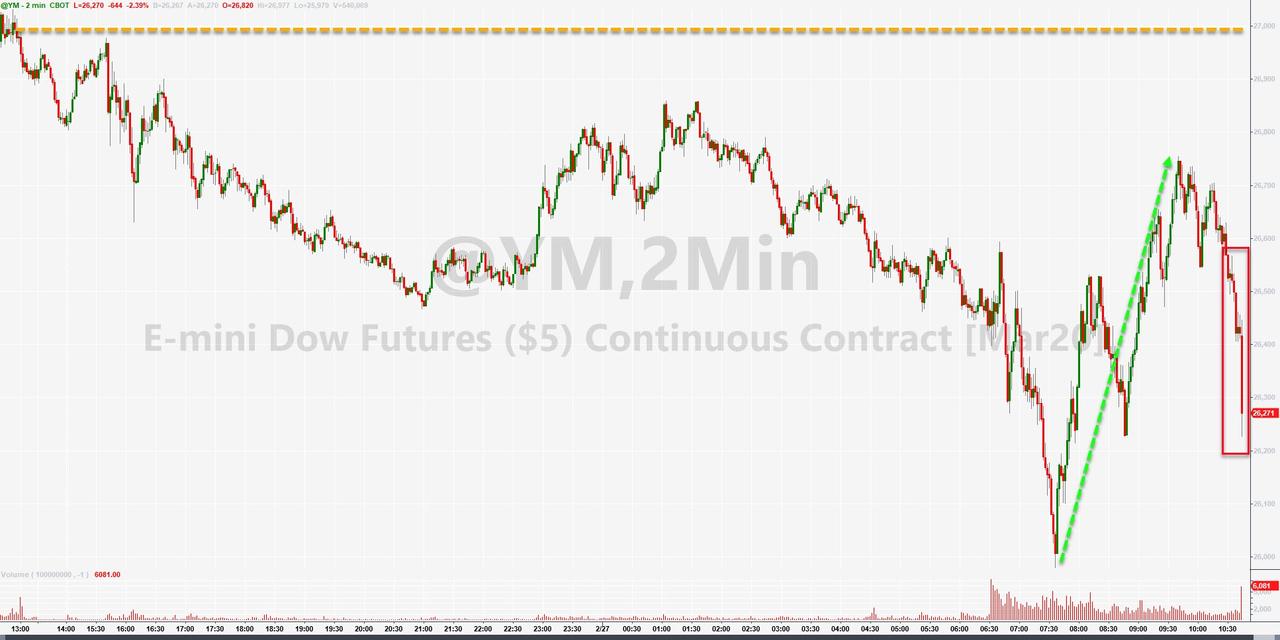 Cali's HHS Secretary assured the public that, other than the shortage of tests, the state is 'well-prepared'.
"It's natural to feel concerned about the novel coronavirus, but I want Californians to know that we have rigorously planned for this public health event," says CA Health and Human Services Secretary Mark Ghaly.
If Californians are freaked out, can't say we blame them.
* * *
Update (1330ET): The German state of North Rhine-Westphalia has confirmed 14 new cases of the virus in the Heinsberg Area, bringing Germany's total to 26.
Here's what Johns Hopkins map and register of confirmed cases looked like at 1:30ET: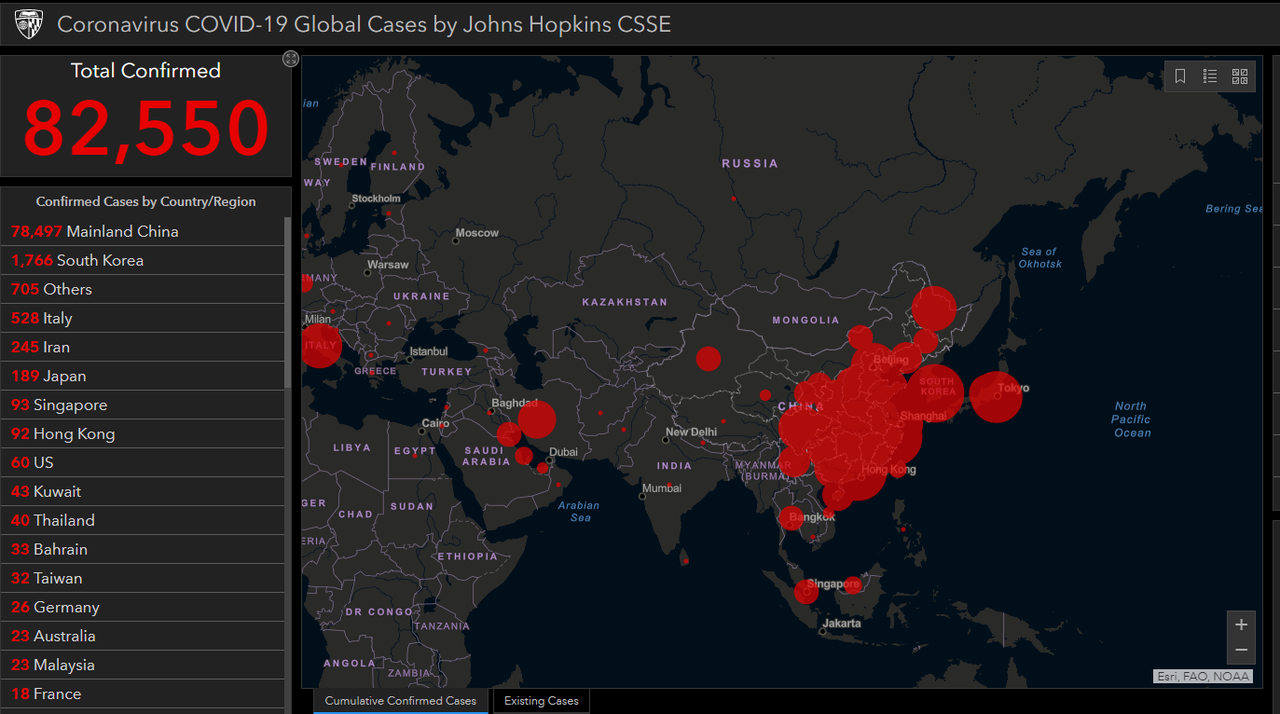 Goldman is also asking some to skip a conference over the virus, Reuters confirms.
* * *
Update (1315ET): Facebook is the latest major tech firm to cancel a conference or employee event. The social media giant said Thursday that it's cancelling its annual F8 developer conference, the biggest FB event of the year, over coronavirus concerns, according to CNET.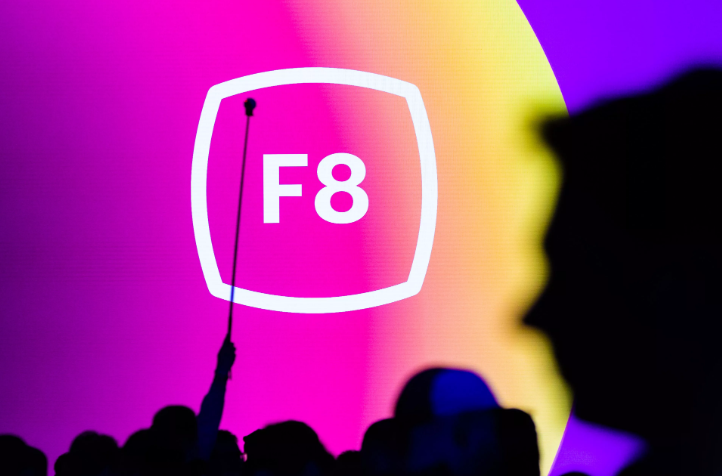 The cancellation will be a major hit for San Jose, where the conference was scheduled to take place at the McEnery Convention Center on May 5 and 6. Last year, the event attracted more than 5,000 developers, creators and entrepreneurs from all over the world.
Zuckerberg typically delivers a widely covered keynote speech at the conference. With all of the scrutiny the company is facing during this election season, Zuck is passing up an opportunity to potentially take a swing at his critics, or show them up.
The company said it's planning to bring developers together at locally hosted events, videos and live streamed content.
* * *
Update (1300ET): Dozens of staffers at the California Hospital – believed to be UC Davis Medical Center – who treated the coronavirus patient with the untraceable coronavirus case are reportedly being 'monitored' for symptoms, according to media reports.
We suspect this is part of the CDC and Cali health authorities efforts to prevent the forewarned "community outbreak."
* * *
Update (1245ET): Italian health officials have reported another three deaths in Northern Italy, bringing the death toll to 17, Reuters reports.
THREE FURTHER DEATHS IN CORONAVIRUS OUTBREAK IN NORTHERN ITALY, BRINGING DEATH TOLL TO 17
As one twitter user points out…
Today might be the first day since the coronavirus epidemic emerged when the main global story on the subject does not have a BEIJING or SHANGHAI dateline.

— Vincent Lee (@Rover829) February 27, 2020
Meanwhile, Vice President Mike Pence has added Larry Kudlow, Steve Mnuchin and Surgeon General Jerry Adams to the White House's Coronavirus Task Force.
Treasury Sec. Steve Mnuchin, NEC Director Larry Kudlow and Surgeon General Dr. Jerome Adams added time the Coronavirus Task Force pic.twitter.com/0zaHB5ByGw

— Phil Mattingly (@Phil_Mattingly) February 27, 2020
Notice how the press release headline includes Pence and Secretary Azar, following all the press questions about Trump being disappointed with Azar's performance, as the former pharmaceutical lobbyist has been criticized for being unfamiliar with key details and slow on his feet during yesterdays' Congressional subcommittee hearing.
Also, it looks like economic concerns will be well-represented during these task force meetings.
OK, I get the Surgeon General.

But Mnuchin?? KUDLOW?????

*PENCE ADDS MNUCHIN, ADAMS, KUDLOW TO VIRUS TASK FORCE

— Brian Chappatta (@BChappatta) February 27, 2020
* * *
Update (1220ET): An update on the case of "unknown origin" in the US, since it has caused some confusion.
Last night, the Washington Post reported that the case was isolated in Sonoma County. The CDC later warned about the possibility of a community outbreak in the county.
On Thursday, the CDC confirmed that the patient is from Solano County, according to local media reports and a statement from the CDC.
.@CAPublicHealth says the first possible community transmission of coronavirus in California involved an individual who lives in Solano County in the Bay Area.

"The individual had no known exposure to the virus through travel or close contact with a known infected individual." pic.twitter.com/w1I8ibI1OS

— Stephanie K. Baer (@skbaer) February 27, 2020
* * *
Update (1150ET): A rare glimpse of bullish economic news out of China: Starbucks says it has reopened 85% of its stores in China, its "second home market," according to a company statement to CNBC.
.@Starbucks now says 85% of stores in China are open– important as this is its "Second home market" and one where the company continues to focus its growth efforts on. More than half of its stores there had been closed as of its latest earnings report last month: https://t.co/HpZxVfbIkd

— Kate Rogers (@katerogers) February 27, 2020
* * *
Update (1120ET): After cheering reports of German fiscal stimulus yesterday, the ECB's Christine Lagarde said the outbreak isn't yet at the stage to justify ECB intervention as investors in the US, and President Trump, look to Powell for a rate cut at the next meeting.
Of course, Lagarde is probably only saying this because she knows there's nothing she can do to salve the European economy from a 'supply-side' shock, which is why she's picking up where Mario Draghi left off and calling on EU governments to spend more to keep the Continental economy from sliding off a cliff.
Meanwhile, Bloomberg reports that the CDC is allowing states to "modify" old test kits to use them on any suspected coronavirus patients.
Hopefully, these tests aren't sacrificing accuracy for availability.
U.S. health officials will let state and local health labs modify a test for the coronavirus that has been plagued by weeks of delays because of inconclusive results, said the head of the trade group for public-health testing labs.

Officials from the Centers for Disease Control and Prevention and the Food and Drug Administration held a conference call Wednesday in which they gave permission for state and local labs to drop a troublesome step in the tests that stopped them from being used, said Scott Becker, CEO of the Association of Public Health Laboratories. Becker's group represents state and local testing labs.

The change should speed testing and allow state and local labs to start using hundreds of test kits that were sent out earlier this month, rather than having to wait for an improved, new version of the test to be sent by federal health authorities.

"In the next week we are going to have much more testing," Becker said in a phone interview. "It is going to increase capacity across the country."
Source: Bloomberg
Over on Capitol Hill, Nancy Pelosi said she spoke to Trump's "Coronavirus Czar" Mike Pence about the emergency spending bill.
* * *
Update (1100ET): Azar admits that the case in a Sonoma County hospital might signal the start of "community transmission" as the CDC warned.
AZAR: CASE IN CALIF. COULD BE POTENTIAL FIRST COMMUNITY SPREAD
* * *
Update (1030ET): With US stocks deep in the red one again, HHS Secretary Alex Azar said at least 40 public health labs in the US should now be able to test for the coronavirus using "modified existing CDC kits".
IMMEDIATE U.S. CORONAVIRUS RISK REMAINS LOW, AZAR SAYS
HHS SECRETARY AZAR SAYS AT LEAST 40 PUBLIC HEALTH LABS IN U.S. SHOULD NOW BE ABLE TO TEST FOR CORONAVIRUS USING MODIFIED EXISTING CDC KITS
in the US, investors are worried about the first case of unknown origin, which the CDC confirmed last night. This comes as critics slam Azar for refusing to guarantee that the coronavirus vaccine would be "affordable to all".
Here's the clip of Azar not assuring Rep. Schakowsky a covid-19 vaccine will be affordable to all. pic.twitter.com/Z8aNd4wLWj

— Michael McAuliff (@mmcauliff) February 26, 2020
The IMF said Thursday that it's likely to downgrade its global growth outlook in the next world economic outlook, which is due in the spring.
Switzerland has become the latest country to cancel games and events over the outbreak, with the Engadin Ski Marathon, said to be the tiny Alpine country's largest annual sporting event.
Over on Wall Street, US stocks are on track for their worst week since the financial crisis.
Pakistan, meanwhile, has become the latest country to suspend all flights to Iran.
* * *
Update (0920ET): WHO Director-General Tedros Adhanom Ghebreyesus said Thursday during the organization's daily press briefing that "we are at a decisive point" in the epidemic, while others warned it could go "in any direction."
WORLD HEALTH ORGANIZATION (WHO) TEDROS SAYS "WE ARE AT A DECISIVE POINT" IN CORONAVIRUS EPIDEMIC

This guy has been 6 weeks behind this whole time

— Quoth the Raven (@QTRResearch) February 27, 2020
Iran has confirmed 26 deaths and more than 140 cases, including a vice president who was the third senior official to catch the virus. But many fear the full extent of the outbreak is much broader. During the press conference, another WHO official singled out Iran, claiming the virus had crept into the country "undetected", before adding that the WHO fears the outbreak inside the country is even worse than the government claims.
"The outbreak can go in any direction based on how we handle it," Dr. Tedros said during the group's daily briefing in Geneva.
Iran "has a very high clinical capacity", said Dr. Mike Ryan, the executive director of the WHO's health emergency program. The 10% death rate probably has more to do with the fact that many cases have gone undiagnosed, he said. The country has gone so far as to cancel Friday prayers in Tehran, after the Saudis told pilgrims they wouldn't be allowed in to the Muslim Holy Sites.
Following European stocks dive into correction territory, in the US, the Dow is on the cusp of falling into correction territory intraday for the first time since December 2018 (remember when?).
As traders digest the implications of the new case in Sonoma County that could be evidence of the first case of "community transmission" in the country, as well as President Trump's rambling press conference on Wednesday, the focus has shifted back to Europe, where in Italy, cases climbed above 500.
According to the FT, Matteo Salvini, the leader of the League, the head of the parliamentary opposition, has met with President Sergio Mattarella as speculation mounts about the prospects for a national unity government to deal with the crisis, following several political missteps by PM Conte.
* * *
Update (0735ET): After yesterday's rally fizzled, Germany is giving the 'fiscal stimulus' tape bomb one more go.
GERMAN GOVERNMENT CONSIDERING POSSIBLE STIMULUS PROGRAMME IN CASE CORONAVIRUS EPIDEMIC HITS GERMAN ECONOMY HARD – HANDELSBLATT
Yesterday, a German lawmaker poured cold water on reports that Germany might ditch its constitutional 'debt break' to boost spending in response to the economy-killing outbreak.
* * *
Update (0715ET): with the country's third election in a year just days away, Israel is taking serious pains to avoid acknowledging the coronavirus cases that have been confirmed in the country by blaming them on Italy and South Korea (each case involved a traveler who had recently returned from one of those two countries).
The country said Thursday it would bar non-Israelis who had recently visited Italy after confirming that a man who had recently visited the country had tested positive for the virus, according to Reuters.
* * *
US equity futures are pointing to yet another lower open on Thursday morning after WaPo interrupted President Trump's press conference last night to reports the first COVID-19 case "of unknown origin," which the CDC later confirmed was in Sonoma County, and could be the epicenter of America's first "community outbreak." Shortly after, South Korea reported its largest number of new coronavirus cases in a single day, as the number of new cases reported outside China once again surpassed the number inside China. Brazil confirmed the first case in South America yesterday, bringing the virus to every continent except Antarctica.
A few hours later, and South Korea has reported another 171 cases, bringing the total cases confirmed on Thursday to 505 – surpassing China's daily total (433) for the first time, as Bloomberg pointed out. So far, South Korea has confirmed 1,766 cases, along with 13 deaths, in the 38 days since the first case was reported on Jan. 20. The US and South Korea have cancelled planned military exercises after a US soldier caught the virus in Korea.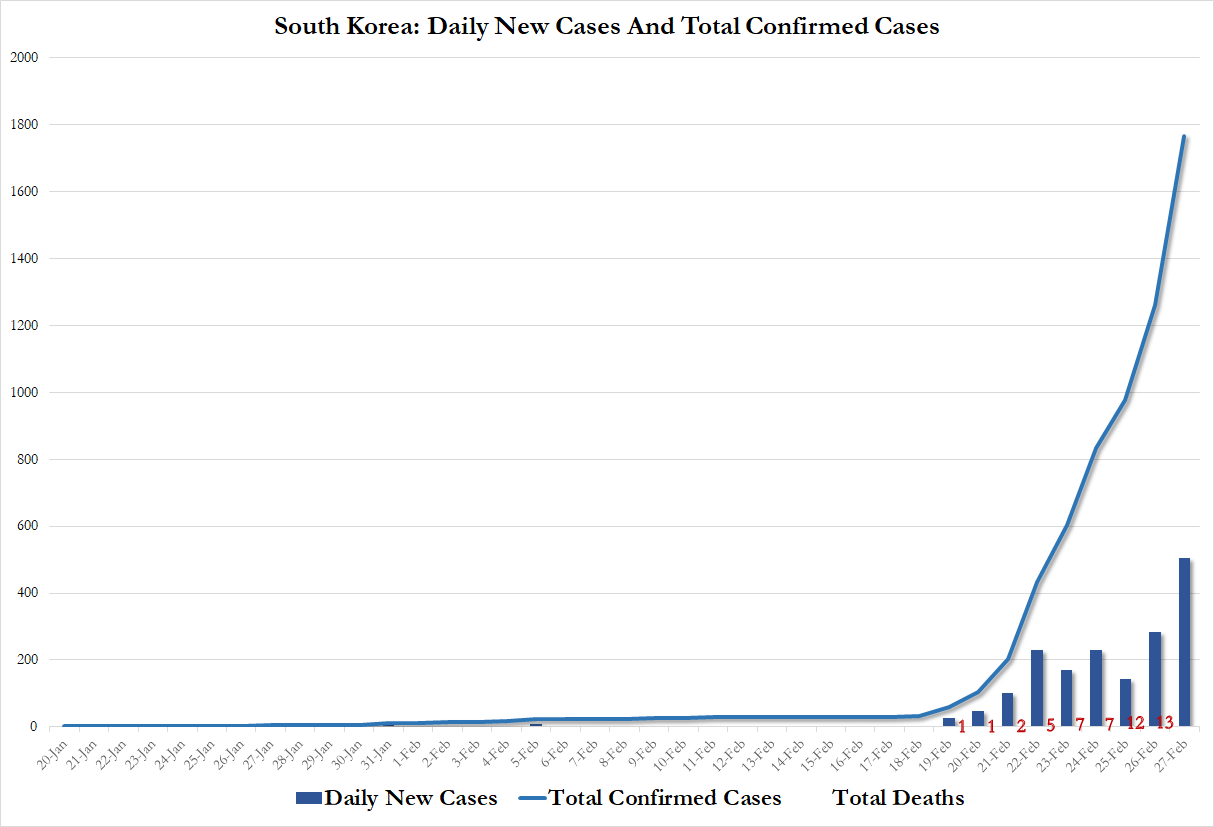 Over in Hawaii, Hawaiian Air has suspended service to South Korea starting March 2 through April 30, while Delta reduces flights as the outbreak in South Korea intensifies (Hawaii has already had one COVID-19 scare involving a Japanese tourist; we suspect the state wants to avoid a similar episode involving South Korea). Congresswoman and presidential candidate Tulsi Gabbard requesting a suspension of flights from South Korea and Japan as the outbreak in the US worsens.
Fearing the sudden breakout in the Middle East might spread inside its borders, Saudi Arabia has halted pilgrimages to Islam's holy sites – known as the Hajj – that are a mandatory practice for Muslims, an unprecedented decision that is likely to spark controversy across the Muslim world. Across the Persian Gulf, Iran has now confirmed 26 deaths 245 cases. But given the virus's rapid spread throughout the Islamic Republic, many suspect that the real number of cases is far higher (earlier in the week, a local lawmaker said 50 people had died in the city of Qom alone).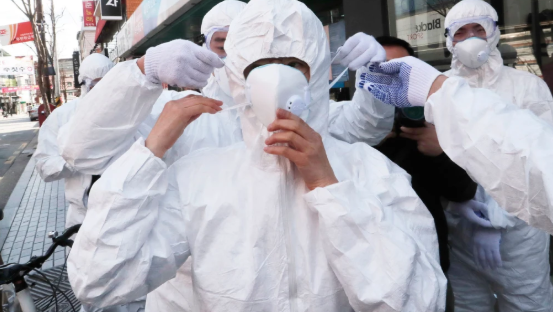 Iran Health Ministry spokesman Kianoush Jahanpour said the large number of new cases is due to more labs handling virus tests. He warned that the public should expect more cases in the future.
Yesterday, Greece was one of eight countries – Brazil, Pakistan, North Macedonia, of course Greece, Georgia, Algeria, Norway and Romania – to confirm their first cases. On Thursday, Greece confirmed two more cases, one of them in its capital city of Athens. The initial case was found in Thessaloniki, Greece's second city.
At last count, coronavirus has infected more than 80,000 people around the world and caused more than 2,700 deaths since the outbreak began in Wuhan back in December.
Following Brazil's confirmation overnight, its Latin American neighbors are taking steps to stop the virus from spreading across their borders. According to the AP, Peru is keeping a team of specialists working 24/7 at Jorge Chávez International Airport. Argentina has asked citizens to report any flu-like symptom. Puerto Rico has established a task force to prepare for an outbreak in Puerto Rico. And Chile has announced a health emergency and purchased millions of masks and protective outfits for health workers.
But perhaps the biggest story overnight came out of Japan, where the government swore yesterday that the Tokyo Games would take place as scheduled this summer, after an IOC member speculated that if the virus wasn't cleared up by late May, Japan might be forced to cancel the Olympics.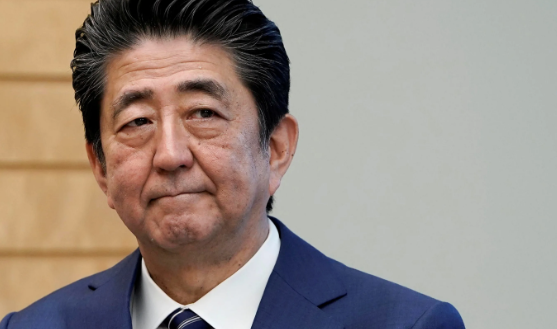 PM Shinzo Abe asked all schools in Japan to remain closed until the spring holidays begin late next month to try and contain the virus. Abe's decision follows a rash of new cases reported in the north of Japan, including the first cases in Hokkaido, with no discernible path of origin, Nikkei reports.
As of Thursday, 175 cases have been confirmed across 19 of Japan's prefectures, including Hokkaido, Tokyo, Aichi, and Chiba. Earlier on Thursday, Hokkaido instituted a weeklong closure of all 1,600 public elementary and junior high schools. Abe made the announcement during a meeting of the government's headquarters.
Schools must now decide whether to abide by the PM's non-binding ask, though it's expected that nearly all schools will comply.
Chinese Premier Li Keqiang, President Xi's 'point-man' in charge of the coronavirus response, said that China will extend its school closures for another month because of the virus, according to CCTV.
Earlier this week, we noted that WHO's team of researchers claimed they found no evidence that the virus had 'mutated' during their study of 100+ strains isolated from patients. Well, another group of scientists have done some research that appears to conflict with this.
In Australia, which confirmed a handful of cases during the early days of the outbreak, but has since gone quiet, PM Scott Morrison said Thursday in what some might describe as a 'fearmongering' speech that "there is every indication that the world will soon enter a pandemic phase of the coronavirus."
"As a result, we have initiated the implementation of the coronavirus emergency response plan. While the WHO is yet to declare the nature of the coronavirus and its move toward a pandemic phase, we believe that the risk of a global pandemic is very much upon us and as a result, as a government, we need to take steps to prepare."
WHO's Dr. Tedros, who yesterday asked officials not to use the word 'pandemic', must have been thrilled to hear Morrison's screed.
Morrison said Australians can still go "to the football match, or the concert" because Australia has "stayed ahead" of the virus. But now it's time to move onto the next phase, which includes "preparation for the possibility of a much more significant event."
'There is every indication that the world will soon enter a pandemic phase of the coronavirus,' Australian Prime Minister Scott Morrison said. Governments around the world are ramping up measures to battle a looming pandemic https://t.co/yHNaDgy54y pic.twitter.com/K9SXjTcq85

— Reuters (@Reuters) February 27, 2020
Over in France, French President Emmanuel Macron said "we have a crisis before us. An epidemic is on its way" during a visit to a Paris hospital where coronavirus patients are being treated. His statement followed reports that 2 have died in France, an elderly Christian tourist and a 60-year-old French national. The Frenchman died earlier this week in Paris at the hospital Macron visited Thursday. The total number of cases in France reached 18 on Wednesday, roughly the same number as neighboring Germany.
Spain detected two more cases on Thursday, bringing the total this week to 14. Neither was connected to Italy, health authorities said. Switzerland confirmed 3 more cases, bringing its total to 4, though Swiss authorities said they're testing 66 others. In Italy, the number of confirmed cases climbed to 528. Of those, 278 are self-isolating at home, 159 recovered with symptoms in hospital and 37 are in intensive care.
As the AP reminds us, Germany's health minister said Wednesday that the country was "at the beginning of an epidemic" as authorities in the west tested dozens of people. New cases on Thursday brought Germany's total to 21.
Two new cases confirmed in the UK on Thursday raised the total to 15. A primary school in Buxton was forced to close for "a deep clean" after a parent of one of the students tested positive for the virus.
The EU Commission doubled-down on its anti-border-closure position, saying no EU country wants to close internal borders. Meanwhile, the FT reports that EU officials are weighing the risks of clusters of Italian-style outbreaks surface across the continent.
What will it take for the EU to acknowledge that border closures might be necessary?
Source: Zerohedge.com
Visited 120 times