The global contagion that negatively impacted the oil industry couldn't have come at a worse time for ExxonMobil.  After the company increased its long term debt by $12 billion over the last year, ExxonMobil may have to borrow even more money to continue paying dividends and capital expenditures (CAPEX).
The reason ExxonMobil was forced to borrow $12 billion between the second quarter of 2019 and the first quarter of 2020 had to do with the nasty negative free cash flow the company accumulated.  I explained this in the chart below, which I posted in my article, THE END OF A U.S. OIL GIANT: ExxonMobil's Days Are Numbered: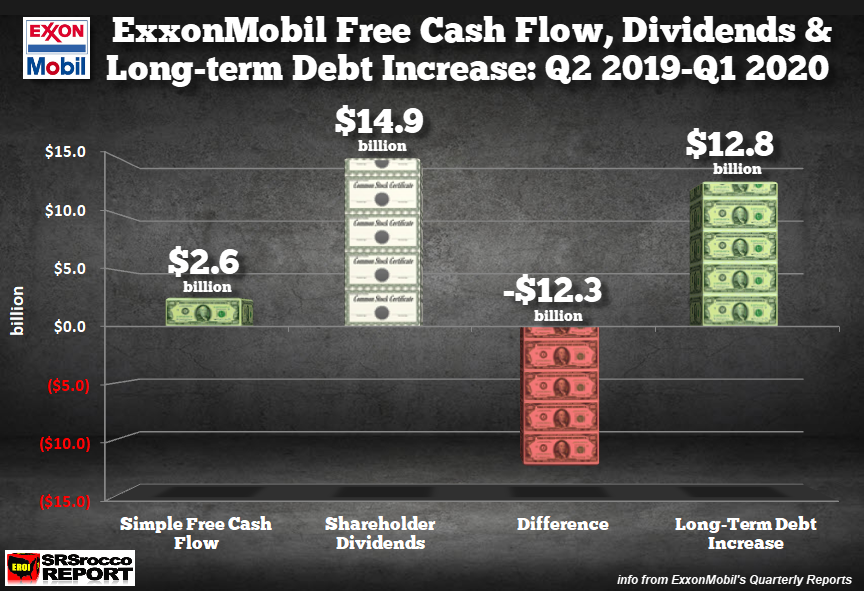 Over the three quarters, ExxonMobil paid a great deal more in shareholder dividends ($14.9 billion) than the company's available free cash flow ($2.6 billion).  Unfortunately, ExxonMobil can't print money like the Federal Reserve to pay its shareholders, so it has to borrow funds.  Thus, the net difference of $12.3 billion (free cash flow minus dividends) is very close to the increase in the company's long-term debt.
With ExxonMobil's release of its Q2 2020 Results, the FINANCIAL HEMORRHAGING continues.  According to my estimates, based on the company's Q2 2020 Supplemental Info and Quarterly Report, ExxonMobil paid out nearly $7.5 billion more in shareholder dividends and CAPEX spending during the quarter than it received in cash from operations.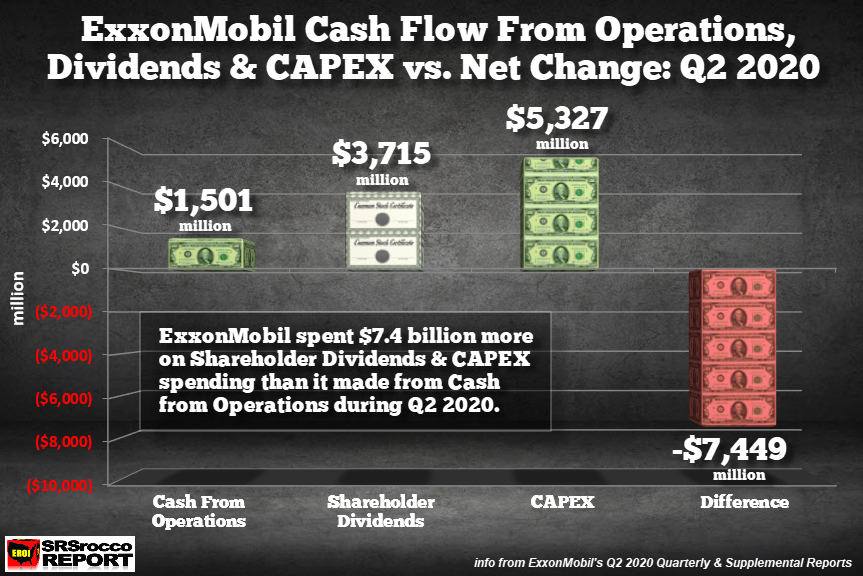 If we subtract the shareholder dividends ($3.7 billion/shown as $3,715 million) and CAPEX spending ($5.3 billion) from cash from operations ($1.5 billion), the net difference is $7.4 billion.  So, I would bet my bottom SILVER DOLLAR that ExxonMobil will be borrowing a BOATLOAD of money during Q2 2020 when they finally release the company's 10-Q report later this week.
As I have been writing about for several years, ExxonMobil, the largest U.S. oil and gas company, is being negatively impacted since it began to ramp up shale production in the states.  We can clearly see this once again in the first half (1H) financial results so far this year.  By comparing ExxonMobil's U.S. Upstream Earnings & CAPEX spending to its NON-U.S., or International sector, we can spot the nasty trend: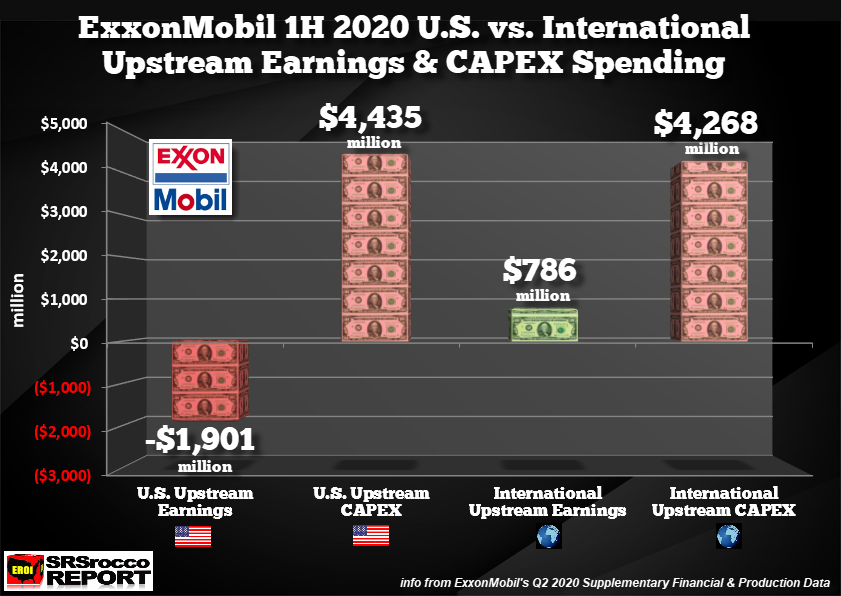 Remember, the upstream sector represents the financial results from the company's oil and gas wells.  ExxonMobil invested more CAPEX in the United States upstream sector ($4.4 billion) while losing $1.9 billion versus the company's International upstream sector spending $4.3 billion and earning a positive $786 million.
In a NUTSHELL, ExxonMobil invested $4 bucks to lose $2 during 1H 2020… WAY TO GO.  Sure, the global contagion impacted the company's International Sector as well, but it at least was able to make some profit for the first half of 2020.
Just to make sure you don't think I am pulling these figures out of thin air, here is a copy of ExxonMobil's Q2 2020 Supplemental Data: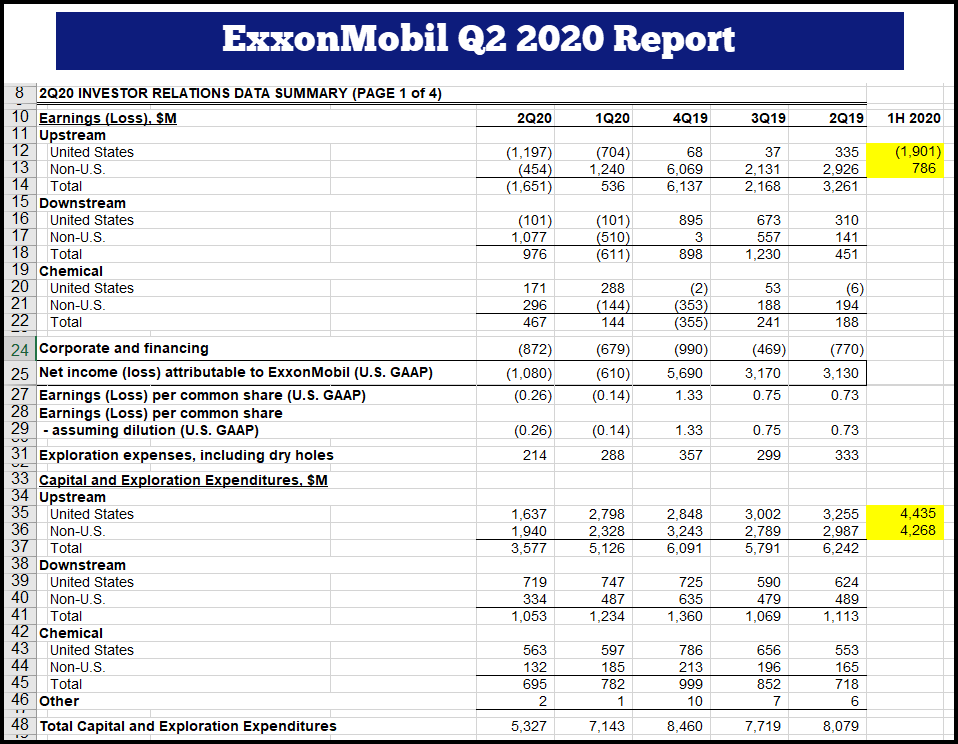 The highlighted yellow figures are my additions to the spreadsheet.  I just added Q1 & Q2 together for each and inputted the figures in my chart above.
HOLD ON; IT GETS EVEN WORSE… LOL.  If we add up all five quarters shown above (Q2-19 to Q2-20), ExxonMobil lost a total of $1.5 billion in its U.S. upstream earnings while investing a stunning $13.5 billion on CAPEX.  Thus, ExxonMobil spent $9 for every $1 it LOST in its U.S. oil and gas wells over that five-quarter period.  The company is definitely moving in the wrong direction with its U.S. oil and gas sector.
So, I am not exaggerating when I say that ExxonMobil's financials continue to hemorrhage.  How long can the company go on before it must face its shareholders and tell them… "WE GOT TO LOWER DIVIDENDS." I'd imagine that will go over like a FART in church.
The world is now facing the coming ENERGY CLIFF. What's the energy cliff? It's when the oil industry can no longer sustain oil production enough to offset the future declines.  This will be terrible news for most Stocks, Bonds, and Real Estate that derive their value based on growing oil production.
Enter your email address to receive updates each time we publish new content.
HOW TO SUPPORT THE SRSROCCO REPORT SITE:
I would also like to thank those foundation supporters, who have chosen to become a member by making donations through PayPal to further the research and publishing work at the SRSrocco Report.
So please consider supporting my work on Patron by clicking the image below:

Or you can go to my new Membership page by clicking the image below: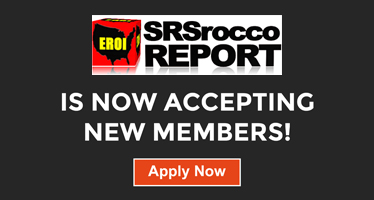 Check back for new articles and updates at the SRSrocco Report.  You can also follow us on Twitter, Facebook, and Youtube below:
Source: srsroccoreport.com
Visited 107 times