Futures Fade China PMI Euphoria After Trump Restarts Trade War With Brazil, Argentina
Markets started off the week in full-blown euphoria mode, despite another lukewarm Black Friday (as Amazon continues to cannibalizes the entire bricks and mortar retail industry) disappointing Korean exports, Japanese industrial data and a report out of China that only a full rollback on existing tariffs will lead to a "Phase 1" trade deal, with traders instead choosing to focus on this weekend's NBS and Caixin manufacturing PMI data out of China, of which the former unexpectedly moved into expansion in November, while the latter jumped to a near three-year high, which reinforced market confidence that the worst may be over for China (of course, this is merely a soft survey; China's actual hard data has been an absolute disaster) and the world economy.
<!–[if IE 9]>
<![endif]–>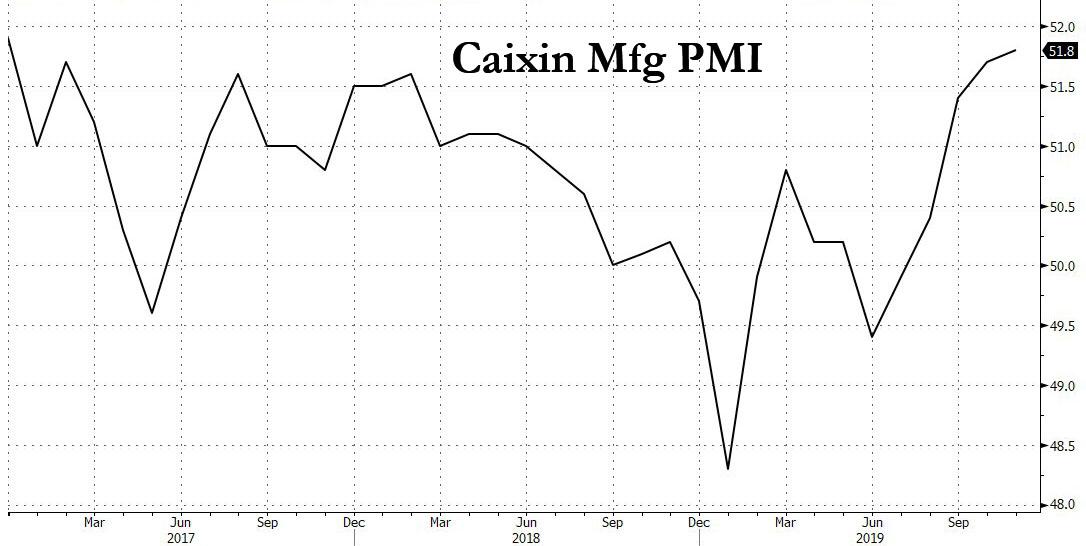 Not even an Axios report late on Sunday that the US-China trade deal had stalled because of Hong Kong legislation and the the phase one deal would probably happen year-end at the earliest, managed to dent optimism.
However after rising as high as 3,158 shortly after the European open, S&P futures pared much of their gain and Europe stocks briefly turned lower after President Trump tweeted on Monday that he will immediately restore tariffs on U.S. steel and aluminum imports from Brazil and Argentina, in the process reminding investors of lingering trade risks and overshadowed solid factory data.
"Brazil and Argentina have been presiding over a massive devaluation of their currencies, which is not good for our farmers. Therefore, effective immediately, I will restore the Tariffs on all Steel & Aluminum that is shipped into the U.S. from those countries," Trump said in a tweet.
…..Reserve should likewise act so that countries, of which there are many, no longer take advantage of our strong dollar by further devaluing their currencies. This makes it very hard for our manufactures & farmers to fairly export their goods. Lower Rates & Loosen – Fed!

— Donald J. Trump (@realDonaldTrump) December 2, 2019
Trump also urged the Federal Reserve to prevent countries from gaining an economic advantage by devaluing their currencies: "The Federal Reserve should likewise act so that countries, of which there are many, no longer take advantage of our strong dollar," Trump tweeted. "Lower Rates & Loosen – Fed!", he said, perhaps unaware that the Fed did just that in three of the past five months.
The latest tariff twist threatened to overshadow promising data out of China and Europe along with a record $7.4 billion in U.S. online sales for Black Friday, if somewhat below expectations. Investors will also be looking for new reasons to be bullish in American factory and employment numbers due this week, although as we showed on Sunday, they may end up disappointed.
<!–[if IE 9]>
<![endif]–>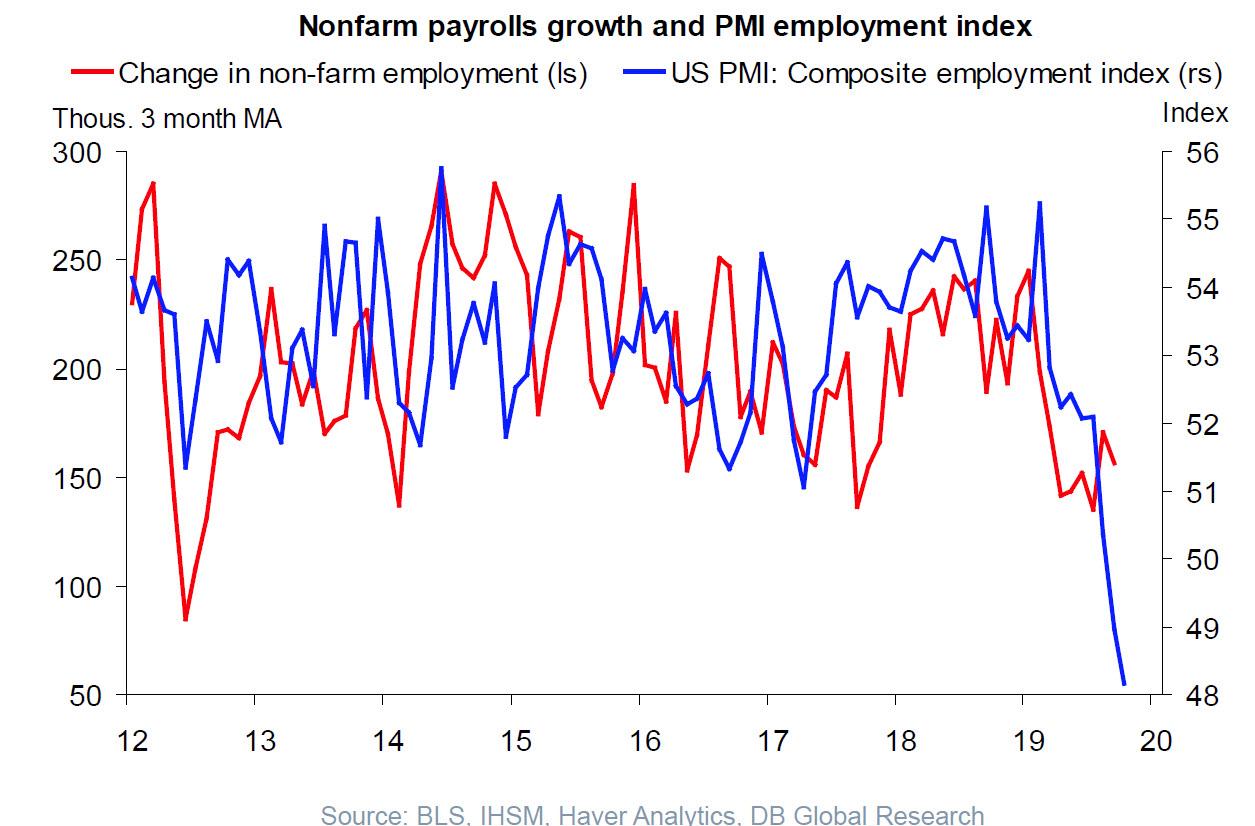 Despite the modest Trump tweet glitch, US futures remained solidly higher thanks to the Chinese PMI data, which coming from a country best known for fabricating all of its economic data, is certainly beyond reproach and is absolutely accurate.
In Europe, the Stoxx Europe 600 Index erased erases an early gain of as much as 0.6% and traded slightly lower as defensive bond proxies utilities, telecoms and real estate led declines. The STOXX 600 Utilities Index extends drop, down 1.4%, the most since Nov. 7. Markets were also keeping track of the latest Eurozone PMI reports which indicated manufacturing activity contracted for a 10th straight month in November although the bloc's battered factories may have turned a corner as forward-looking indicators in Monday's survey appear to have passed a nadir.
IHS Markit's final manufacturing Purchasing Managers' Index (PMI) has been below the 50 mark separating growth from contraction since February, but at 46.9 it was above October's 45.9 and higher than a preliminary estimate of 46.6.
The index for output, which feeds into a composite PMI due on Wednesday that is seen as a good gauge of economic health, rose to 47.4 from 46.6. "Although still signaling a steep rate of decline, the manufacturing PMI nonetheless brings some encouraging signals which will fuel speculation that the worst is over for euro area producers," said Chris Williamson, chief business economist at IHS Markit.
<!–[if IE 9]>
<![endif]–>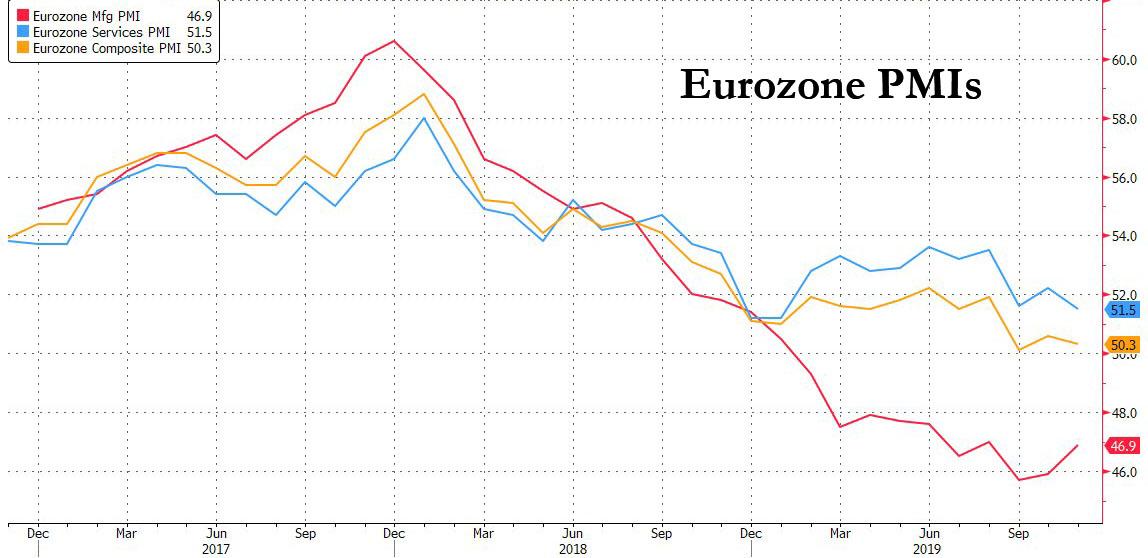 New orders, employment, raw materials purchases and backlogs of work all declined at a shallower rate, while optimism staged its biggest one-month bounce in over six years. The future output index leapt to 55.3 from 51.9.
"Perhaps most promising is a marked upturn in business sentiment, particularly in Germany," Williamson said. Germany is going through a soft patch but is on track to grow 0.2% this quarter, the Ifo economic institute said last week. Its export-dependent manufacturing sector contracted at a slower pace for the second month in a row in November, the German factory PMI showed earlier. The country's mfg PMI printed at 44.1, above the 43.8 expected.
In another key weekend development, Germany's Finance Minister Scholtz lost his bid to become leader of the SPD after suffering defeat at the hands of the left-leaning Norbert Walter-Borjans and Saskia Esken, who have been highly critical of the coalition between their party and the CDU/CSU. The Chief economist at the Centre for European Reform noted that Walter-Borjans and Esken have been critical of the debt brake but accept that it probably cannot be changed, adding that it is unlikely the coalition will collapse but the SPD will likely make the GroKo more painful for the CDU.
Earlier, Japanese stocks led gains in Asia, while Hong Kong shares managed to climb even after clashes between protesters and police resumed over the weekend. Asian stocks advanced, led by health-care firms, after China posted stronger-than-expected manufacturing surveys. Most markets in the region were up, with Japan and the Philippines leading gains. The Topix climbed, driven by electronic companies and automakers, as the yen stabilized near a six-month low against the U.S. dollar. The Shanghai Composite Index edged higher, snapping a three-day losing streak, with Will Semiconductor and Foxconn Industrial Internet driving gains. India's Sensex fluctuated after retreating from Thursday's record-high close in the previous session. Reliance Industries climbed while Tata Consultancy Services, slid.
As a reminder, on Saturday China rpeorted that its official, NBS Manufacturing PMI rose to 50.2 vs. Exp. 49.5 (Prev. 49.3), its first expansion in 7 months, while the Chinese Non-Manufacturing PMI also rose to 54.4 vs. Exp. 52.0 (Prev. 52.8), resulting in a Composite PMI (Nov) 53.7 (Prev. 52.0) Chinese Caixin Manufacturing PMI (Nov) 51.8 vs. Exp. 51.4 (Prev. 51.7).
<!–[if IE 9]>
<![endif]–>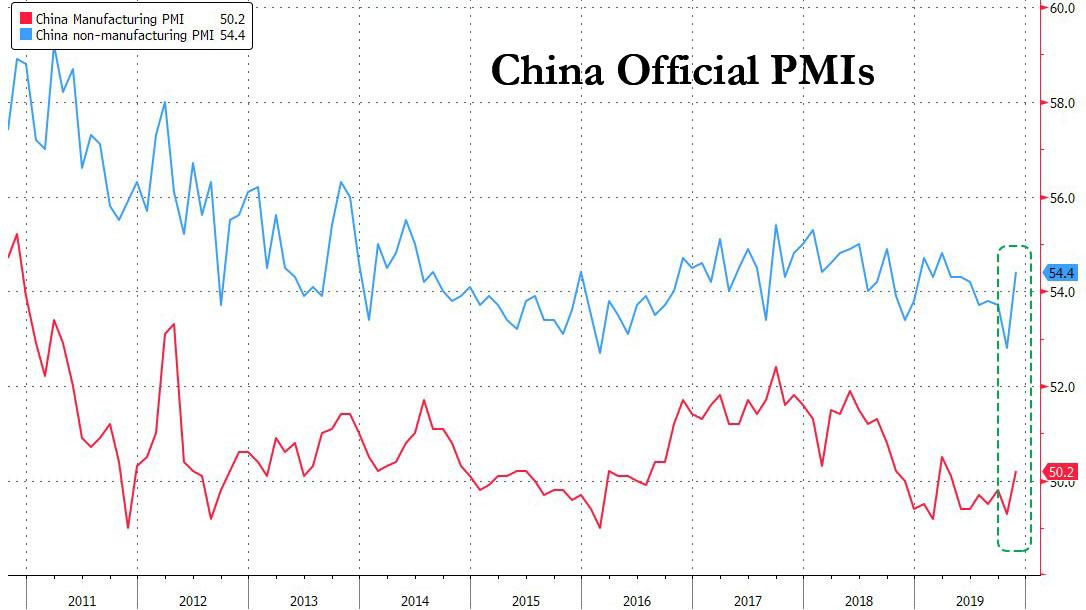 "This improvement in the manufacturing PMI is important because we can say with more certainty, than at the beginning of the year, that China's macro outlook is indeed stabilizing," said Aninda Mitra, senior sovereign analyst at BNY Mellon Investment Management.
Meanwhile, better-than-expected manufacturing data from China and the euro area failed to ignite demand for emerging-market assets as risks including a lack of progress in U.S.-Sino trade talks and protests in Hong Kong weighed on investor sentiment. While MSCI's emerging-market stock index eked out a modest gain on Monday, the currency gauge extended a decline after posting its first down month in three in November. The Philippine peso led declines as the nation braces for Typhoon Kammuri, while Turkey's lira edged lower amid concern soft economic growth will push the central bank to ease policy further. The zloty strengthened after the manufacturing PMI climbed. "Markets see the glass half full," Guillaume Tresca, a Paris-based strategist for Credit Agricole, said in a client note. While the Chinese manufacturing data improve the outlook for global growth, "it could get more complicated to get a trade deal" as China's government insists on a tariff rollback.
In FX, the U.S. dollar rose to a six-month high versus the Japanese yen and New Zealand's currency jumped to near four-month peaks on Monday on a rebound in global economic optimism. The U.S. dollar rallied to 109.73 yen, the highest since May, and was last up a quarter of a percent against the safe-haven Japanese currency at 109.63 yen. The euro was steady ahead of a testimony by the European Central Bank's new president, Christine Lagarde, to the European parliament later in the day. A tightening British election race knocked the pound lower. Riskier currencies also rallied after the Chinese data, with New Zealand's dollar jumping to its highest in almost four months at $0.6475. It was up 0.75% on the day, while the Australian dollar rallied 0.4% at $0.6789.
In rates, global bonds retreated as equities traded in a sea of green and commodity currencies advanced. US 10Y Tsy yields jumped as high as 1.86% before fading half of their gains following the Trump tweet.
In commodities, oil rallied following its more than 5% sell-off on Friday, while gold retreated. Crude oil firmed on dual tailwinds in the form of better than expected PMIs out of China and talk of OPEC+ producers considering a 400k deepening of existing cuts acting as a tailwind for the complex. Front month WTI and Brent futures have managed to recover nearly half of Friday's steep losses, the former eclipsing USD 56.50/bbl to the upside (vs. lows of USD 55.00/bbl), the latter briefly topping the USD 62.00/bbl mark (vs. USD 60.40/bbl lows). Weekend comments from Iraqi Oil Minister Ghadhba hinted the cartel will mull deepening existing oil output cuts by about 400k bpd to 1.6mln bpd, comments which further corroborated by sources this morning; the touted a cut of at least 400k BPD which could last until at least June.
Following a barrage of PMI reports from around the world, we also get PMIs and construction spending data from the US.
Market Snapshot
S&P 500 futures up 0.2% to 3,148.25
STOXX Europe 600 up 0.5% to 409.44
MXAP up 0.4% to 164.47
MXAPJ up 0.2% to 524.78
Nikkei up 1% to 23,529.50
Topix up 0.9% to 1,714.49
Hang Seng Index up 0.4% to 26,444.72
Shanghai Composite up 0.1% to 2,875.81
Sensex unchanged at 40,794.04
Australia S&P/ASX 200 up 0.2% to 6,862.27
Kospi up 0.2% to 2,091.92
German 10Y yield rose 7.9 bps to -0.281%
Euro down 0.01% to $1.1017
Italian 10Y yield fell 0.3 bps to 0.885%
Spanish 10Y yield rose 6.9 bps to 0.485%
Brent futures up 2.4% to $61.94/bbl
Gold spot down 0.5% to $1,456.67
U.S. Dollar Index little changed at 98.34
Top Overnight News from Bloomberg
The House this week begins the solemn task of deciding whether to bring impeachment articles against President Donald Trump, faced with a sharply divided American public, a compressed timetable and doubts about how and if the White House will participate
Peter Navarro, the self-described "bad cop" of Trump administration economic policy, wants to shake up the World Trade Organization
Chancellor Angela Merkel's government was thrown into crisis after Germany's Social Democrats redrew the country's political map by electing a new leadership seen as a threat to the survival of their coalition; Chancellor Angela Merkel's party told the new leadership that there will be no renegotiation of the terms of their alliance
The Labour Party gained on the ruling Conservatives in four of five polls with two weeks until the U.K. election, with one of them signaling a possible hung parliament
First it was India and South Korea. Now Japan and New Zealand are joining Asia Pacific's fiscal stimulus bandwagon, raising concerns for bond investors who will be asked to fund the attempt to re-ignite growth
For years, OPEC ignored the rise of the U.S. shale industry and came to regret its mistake. Now, the group is making another bold gamble on America's oil revolution: that its golden age is over
Asian equity markets kick-started December on the front-foot with risk appetite stimulated by a flurry of better than expected Chinese data including official Manufacturing PMI which expanded for the first time in 7-months. ASX 200 (+0.2%) and Nikkei 225 (+1.0%) were higher with Australia led by outperformance in the defensive and financial sectors but with upside capped by energy following the recent slump in oil prices after Russian Energy Minister Novak triggered doubts for a deal extension at this week's OPEC+ meeting, while the advances in Tokyo were mainly fuelled by a weaker currency. Hang Seng (+0.4%) and Shanghai Comp. (+0.1%) welcomed the encouraging PMI data which aside from the headline beat, also showed Non-Manufacturing PMI and Caixin Manufacturing PMI topped estimates, although gains were limited by continued PBoC inaction, the resumption of violence in Hong Kong protests over the weekend and ongoing trade uncertainty with Beijing said to be insistent on a tariff rollback and as other reports suggested Hong Kong legislation may have stalled the US-China agreement but that a phase one deal would still probably occur by year-end at the soonest. Finally, JGBs were lower amid similar pressure in T-notes and with demand for bonds sapped by the mostly upbeat sentiment, while the BoJ's presence for a respectable JPY 890bln of JGBs did little to help 10yr JGB prices after having slipped through prior support at the 153.00 level.
Top Asian News
PBOC Signals Policy to Stay Cautious Amid Uncertain Data
Slowdown Fuels Fears Turkey to Push Stimulus It Can't Afford
Better than expected PMI data out of China overnight followed by slight revisions higher to manufacturing PMIs across Europe have somewhat spurred risk appetite; subsequently, major European bourses (Euro Stoxx 50 +0.1%), but has pared back a bulk of its gains in recent trade. Sectors are mostly in the green, led by Energy (+0.7%), in-line with rallying crude prices, while the defensive Utilities (-1.3%) sector is the laggard. In terms of individual mover, Tullow Oil (+4.3%) is the top Stoxx 600 gainer, as reports circulate alleging the Co. has agreed to sell a stake in its Ugandan oil fields. Lufthansa (+1.5%) received a boost on the news that Qatar Airways may be interested in taking a stake in the Co., which could lead to a partnership, although the Co. pushed back on the news stating that the Co. was not privatised in Germany to be nationalised in Qatar. Elsewhere, positive broker moves for Rio Tinto (+0.7%) and EDF (+2.4%) sees the Co.'s shares supported. In terms of the laggards, Hiscox (-3.4%) is set to receive the boot from the FTSE 100 in its quarterly reshuffle on Wednesday, while Fresnillo (-3.7%) and Kingfisher (+1.5%) are also reportedly at risk. easyJet (-0.1%), Just Eat (Unch) and GVC (+1.0%) could be promoted, according to Elsewhere, at the bottom of the FTSE 100 is Ocado (-8.6%), whose shares sunk on the news that the Co. is to issues GBP 500mln worth of bonds which will be convertible into shares as it seeks cash to fund its tech arm's commitments.
Top European News
Johnson Bolsters Security Message After London Knife Attack
Euro- Area Manufacturing Slump Eases But Job Losses Continue
U.K. Factory Downturn Was Less Severe Than Feared in November
UniCredit Sells Stake in Turkey Unit as Mustier Readies Targets
Merkel's Party Plays Hardball With Coalition Future in Doubt
In FX, the Kiwi has made a flying start to December on the back of significantly stronger than forecast NZ terms of trade for Q3 that has lifted Nzd/Usd over the 0.6450 mark to test early November resistance (around 0.6466) and nudged the Aud/Nzd cross down through 1.0500 to test Fib support even though the Aussie is also doing well in the G10 arena in wake of encouraging Chinese PMIs, with Aud/Usd climbing above 0.6775 and rebounding towards 0.6800.
EUR/CHF/CAD/GBP/JPY – All softer vs a generally solid Greenback, bar the aforementioned Antipodean Dollar outperformance, as the DXY meanders between 98.272-368 awaiting the full return of US markets/participants from Thanksgiving. Eur/Usd is just maintaining 1.1000+ status with the aid of better than flash or forecast Eurozone PMIs that have offset some of the investor qualms over German politics due to the failed attempt by Finance Minister Scholz to become SPD chief over the weekend. However, more hefty option expiry interest may keep the single currency supressed, as 1.2 bn runs off from 1.0995-1.1000 and a further 1.1 bn between 1.0005-20. Elsewhere, the Franc is pivoting parity after Swiss retail sales and the manufacturing PMI both beat consensus, but slowed from previous levels and the Loonie is hovering just above 1.3300 Canada's manufacturing survey amidst a firm rebound in oil prices that is also helping the NOK pare some of its recent declines. Indeed, Eur/Nok has eased back from around 10.1600 vs a more elevated Eur/SEK following falls in Norwegian and Swedish manufacturing PMIs (albeit the former still growth vs the latter contracting faster). Meanwhile, Cable continues to labour on the 1.2900 handle, with weekend polls indicating a tighter UK election race and an upward revision to the manufacturing PMI not really providing the Pound with any momentum due to weak sub-components. Similarly, the Yen did not derive much impetus from Japan's manufacturing headline rebounding closer to 50.0 as Usd/Jpy hovers near the middle of a 109.49-72 range and stays technically bullish after a 3rd close above a key chart level (109.37 Fib).
EM – Depreciation against the Buck almost across the board, with Usd/Cnh hovering around 7.0400 after China's retaliatory moves in response to the US bill in favour of HK protestors and Usd/Try skirting 5.7600 following scant reaction to a rebound in Turkish GDP or upturn in manufacturing PMI.
In commodities, crude oil prices are firmer during Monday morning trade, with dual tailwinds in the form of better than expected PMIs out of China and talk of OPEC+ producers considering a 400k deepening of existing cuts acting as a tailwind for the complex. Front month WTI and Brent futures have managed to recover nearly half of Friday's steep losses, the former eclipsing USD 56.50/bbl to the upside (vs. lows of USD 55.00/bbl), the latter briefly topping the USD 62.00/bbl mark (vs. USD 60.40/bbl lows). Weekend comments from Iraqi Oil Minister Ghadhba hinted the cartel will mull deepening existing oil output cuts by about 400k bpd to 1.6mln bpd, comments which further corroborated by sources this morning; the touted a cut of at least 400k BPD which could last until at least June. Moreover, the latest analysis from OPEC sees a significant oil glut and inventory build in H1 2020 in the absence of further cuts, said multiple sources. In terms of the metals; gold is well off last Friday's highs of around USD 1467/oz, as lack of haven demand on better global PMI data puts the precious metal under pressure. Copper, meanwhile, received a fleeting overnight boost on better Chinese PMIs but has since retreated from highs and is fairly flat on the day as the red metal balances trade implications from China's action against the Hong Kong bill which passed into law in Washington.
US Event Calendar
9:45am: Markit US Manufacturing PMI, est. 52.2, prior 52.2

10am: ISM Manufacturing, est. 49.2, prior 48.3
ISM Employment, est. 48.3, prior 47.7
ISM Prices Paid, est. 47, prior 45.5
ISM New Orders, prior 49.1

10am: Construction Spending MoM, est. 0.3%, prior 0.5%
DB's Jim Reid concludes the overnight wrap
As we welcome in December, Craig has already published our monthly performance review (link here ).The penultimate month of the year proved to be another good one for risk assets as tentative signs of progress towards a "Phase One" trade deal and slightly better data helped. As such of the 16 equity markets in our sample, 13 closed with a positive total return in local currency terms. That of course included fresh new highs for the major US equity markets. YTD, all 38 assets in our sample across all asset classes are now up. Impressive stuff. See the link for more.
It always feels that getting past Thanksgiving marks the start of the official Christmas season. The tree went up at home yesterday, Bronte has already eaten 5 tree decorations, the twins have pulled off several more and Maisie has demanded that she opens more than one advent calendar door each day. Meanwhile my wife drops more Xmas present hints than a taxi driver does passengers on New Year's Eve. It's going to be a long month.
This first week of December has a number of critical events that will set the agenda for markets running up to Christmas. Data releases include global PMIs (today and Wednesday), the US jobs report (Friday) and the US ISM figures (today and Wednesday). We'll hear from ECB President Lagarde (today), and get policy decisions from central banks in Canada (Wednesday), Australia (Tuesday) and India (Thursday), while there'll be another UK election debate between the two main party leaders (Friday) and a NATO leaders summit in London (Tuesday-Wednesday). With only just over a week to the U.K. election all eyes on whether Trump's visit to London (starting today ahead of NATO) creates political capital for the opposition parties keen to link Mr Trump to Mr Johnson. Finally the German SPD 3-day party conference starting on Friday is now a must watch given the shock leadership results over the weekend that we'll discuss below.
Today is global manufacturing PMI day before the services and composite PMIs come out on Wednesday. China has given the world a boost by seeing the official manufacturing gauge at 50.2 (49.5 expected), the first 50+ print since April and up from 49.3 in October. Non-manufacturing rose to 54.4 (consensus 53.1) from 52.8 last month. There is some chatter about strong seasonal helping but overall this will be seen as positive news. Meanwhile, China's November Caixin manufacturing PMI also came in higher than consensus at 51.8 (vs. 51.5 expected). Asian equity markets have subsequently started the week on the front foot with the Nikkei (+0.99%), Hang Seng (+0.34%), Shanghai Comp (+0.30%) and Kospi (+0.13%) all up. Elsewhere, futures on the S&P 500 are up +0.28% while yields on 10y USTs are up +3.8bps. In other news, China's Global Times tweeted yesterday that the Chinese government wants tariffs to be rolled back as part of the phase one trade deal with the US, citing unidentified people in Beijing. As for other overnight data releases Japan's final November PMI came in 0.3pts above the preliminary read at 48.9.
As for the rest of the weekend news, the surprise SPD leadership victory for Norbert Walter-Borjans and Saskia Esken who are very much on the left wing of the party will likely have short and longer term implications. Walter-Borjans has already suggested that they don't need to leave the coalition with Mrs Merkel's CDU but that "we must improve the policies and perhaps loosen the black zero". Whatever actually happens from here this news will likely get markets excited about an easier path to more German fiscal policy in the future. It makes the probability of the Groko breaking up higher and increases the chance of fresh elections in H1 next year. With the Greens riding high in the polls (Forsa) this hope of more fiscal will be further boosted by this. However their policies are not market friendly so what happens next in Germany is very complicated. It could well be that nothing actually happens and the Groko stays together. The SPD are low enough in the polls to make them vulnerable in early elections but staying in the coalition isn't helping their polling. So a catch-22. Makes me happy I live in an easy to predict country in terms of politics (a joke by the way!). Maybe we'll have a lot more to report this time next week after the 3-day SPD conference starting on Friday. The Euro is trading flattish this morning at 1.1020 after the news. See our FX strategist full round up of this German political earthquake and implications for the Euro here .
In terms of the U.K. election polls, the Tory lead over Labour in the weekend polls were 6, 10, 15, 9, 13 and 9 points with a bigger range than of late. This still averages 10 points but it's clear that Labour are eroding the lead in enough polls to make this a little more "interesting" than a couple of weeks ago even if the aggregated lead isn't that much different. A reminder that a lead of less than 6-7 points might start to push us towards hung parliament territory. Sterling is trading a shade weaker overnight at $1.2917 on the back of these polls.
Moving forward and as for the rest of the global PMIs, the flash numbers mean we do have some initial indications of how the global economy performed into November but if momentum is improving this can be picked up between the flash and final numbers. The flash Euro Area services PMI fell to 51.5 while the manufacturing reading rose to 46.6, and the consensus is expecting the final Euro Area PMI readings to remain in line with the flash ones.
In the US, we've also got the ISM releases, with the manufacturing report today before the non-manufacturing index comes out on Wednesday. The manufacturing reading has been below 50 since August (49.2 expected, 48.3 last month), although the non-manufacturing index has held up better, at 54.7 last month.
The other big highlight of the week comes with the US jobs report on Friday. In October, the +128k increase in nonfarm payrolls was the slowest pace of job growth since May but was better than expected with upward revisions to earlier months. The consensus is looking for a rebound to +190k in November. Meanwhile the unemployment rate and average hourly earnings yoy growth are expected to remain at 3.6% and +3.0% respectively. Other US data on factory orders, the trade balance and durable goods orders on Thursday will also help set the tone through December.
In Europe, slightly less is happening in terms of data aside from the PMIs, but we will see German factory orders and industrial production figures released for October on Thursday and Friday respectively. With the German economy having avoided a technical recession in Q3 with +0.1% qoq growth, attention will focus on whether the data heading into Q4 has shown further signs of stabilisation. Finally, for the Euro Area as a whole, Thursday sees the October retail sales figures coming out, along with the final reading for Q3 employment and GDP.
Turning to central banks, with the Fed in their blackout period, the main event this week is likely to be ECB President Lagarde's appearance before the Economic and Monetary Affairs Committee of the European Parliament today. This is the first Monetary Dialogue with the committee since Lagarde became ECB President, and it'll be worth keeping an eye on whether she talks about the upcoming strategic review of monetary policy.
Other political events to watch out for include the annual UN climate change conference in Madrid from today, which will be taking place over the next two weeks. Then here in London we have a summit of NATO leaders on Tuesday and Wednesday. And finally, ahead of the UK general election on December 12, there'll be the second head-to-head debate between Prime Minister Johnson and Labour leader Corbyn on Friday.
A quick recap of last week and equity markets ended on a negative foot amid thin post-US holiday liquidity, but were still higher on the week thanks in large part to better US data from earlier in the week. The S&P 500 ended +0.99% on the week (-0.40% Friday), with the NASDAQ outperforming, up +1.71% (-0.46% Friday). The STOXX 600 moved a similar amount, up +0.85% (-0.44% Friday). Bank stocked lagged in both regions, with the S&P 500 banks index up +0.43% (-0.28% Friday) and the STOXX bank index -1.08% (-0.49% Friday). Fixed income markets were calm, with yields on treasuries up +0.5bps (+1.0bps Friday) and on bunds down -0.1bps (+0.1bps Friday). Gilts saw a relatively larger move on Friday, ending the week -0.8bps lower despite a +2.1bps selloff on Friday, as confidence increased that the Conservative party will win the upcoming election even with a slight narrowing in the polls.

Tyler Durden

Mon, 12/02/2019 – 07:43

Source: zerohedge.com
Visited 67 times