When confronted with the unprecedented "one-time" revision in infected Covid cases, which added a whopping 15,000 infections to the Chinese disease total, Wall Street has responded in one of two ways. The first, as exhibited by the vast majority of sellside analysts who refuse to admit they are wrong, such as Goldman (described earlier), simply ignored the new data, treating thousands of infected people as if they are somehow a different group, and instead focused on the genetic tests which continue to decline – which somehow magically "confirms" that the pandemic is contained – even as a giant backlog of symptomatic, and potentially terminal, patients, who get CAT screens, has built up simply because China does not have the capacity to test more than 2-3,000 per day.
The second response, far more rare due to its honesty, was demonstrated by JPMorgan this morning when the strategist keeping tabs on China's pandemic, MW Kim, admitted that following the latest update, his model no longer makes sense. Until last night, JPMorgan was perhaps best known for having extrapolated a base and pessimistic case scenario, and providing daily "beats" and "misses" when the official numbers were reported. The problem is that while until recently most of the reported cases "beat" JPM's forecast, which heading into today had a pessimistic case of 50,790 cases…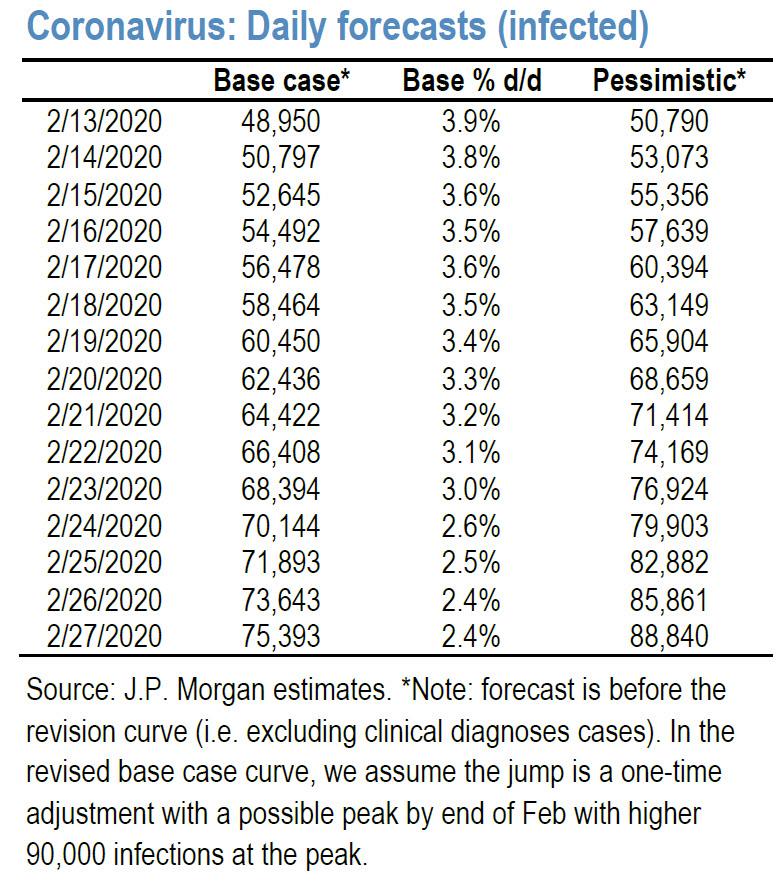 …the latest data which pushed the total number of cases above 60,000 has thrown the company's forecast into a tailspin, and Kim concedes that his model is no longer appropriate.
This is what JPM said this morning:
China's total infected toll increased by 15,152 cases and reached 59,804 (including 13,332 clinically diagnosed cases in Hubei) on 12-Feb-20, with 1,367 deaths (96%, or 1,310, deaths are from Hubei province), according to the National Health Commission. The jump in infections today was mainly due to the revision of the diagnosis guidelines in Hubei province. Under the previous method, i.e. excluding clinically diagnosed cases, the total infected toll would be 46,472 (vs. JPMe: 47,102), largely in line with the shape of our base-case epidemiology model.

Under the revised method, however, the reported infected toll of 60k is one week ahead of our curve. The old series still tracks our model scenario, leading us to assume that the 14,840 new reports are a cumulative adjustment. However, without a historical daily breakdown, the jump distorts our infection forecast and shape.
This means that as of this moment, even the brightest "epidemiologists" on Wall Street, those had goalseeked the previous data series and fitted it to give them some forecast capabilities, have no idea what is going on.
As such, JPM is "currently considering three possible adjustments to the infection curve – new shape, smoothing, and scale-up (without Ro adjustment). We will revisit model variables after monitoring Friday's reported numbers."
What this means for JPM's infection curve adjustment is the following:
A one-time rebase in infection data as the infected toll growth curve is decelerating, potentially diluting the curves strength in forecasting a trend. Consequently, we think a change in the curve may be required. This is complicated by the change which applies only to Hubei. Hubei accounting for ~80%+ of the post-adjustment infected total limits the extent of the distortion. As monitor next time series, our options include

infection rate assumption changes (curve shift),
smoothing (amortising the jump impact to previous days), and
scale-up (using the current curve, but scaling it up assuming the same infection rate).We will revisit our model assumptions after Friday's reported numbers.
And visually:

And since JPM has to justify why it didn't account for this change in definition of a "confirmed case" even though fringe blogs such as this one warned it was coming, this is what the bank said:
The new fifth edition "Guideline of new coronavirus pneumonia diagnosis and treatment" added that suspected cases in Hubei Province will be considered as confirmed ones when there are obvious pneumonia characteristics after clinical diagnosis, even without the nucleic acid test.

We believe the change in definition is necessary given that COVID-19 is a new disease and its diagnostic standards needs to be optimized as knowledge increases. Hubei province is a severely affected area and may not have enough diagnostic capacity to carry out nucleic acid tests for every suspected case. Nucleic acid test accuracy is also not guaranteed, and false negatives may exists. The change in the definition could lead to better control of the infection and block the route of transmission.
It certainly could lead to that, which also explains why no other province besides Hubei has decided to adopt it as the rest of China is still under the impression that it will boost public confidence if it keeps underrepresenting the full severity of the pandemic, when in reality just the opposite is happening as China's population watches surreal social media images and videos showing a government response as if a viral plague has been unleashed on the nation where people just randomly fall dead in most major cities.
In other words, whereas JPMorgan would like to give an "adjusted infection" number, just as Goldman did when it dismissed the overnight case surge, the bank refuses to do so until it has some credible justification behind it. Which also means that it is now up to Beijing to provide a new set of data that actually allows banks to goalseek the Thursday surge in a way that allows them to once again ease client nerves by repeating daily that the number of new cases is declining and the pandemic is contained. Of course, if China fails to co-operate, not even Wall Street's biggest bulls will be able to (mis)represent the official data in a bullish light, as it emerges soon that the reality on the ground is far, far worse than anyone had expected as what now almost certainly appears to be a leaked bio-engineered virus continues to crippled both China's economy and global supply chains.
Finally, for the TL/DR version of what all of the above really means, we leave it to an email blasted to all of BMO capital market traders this morning.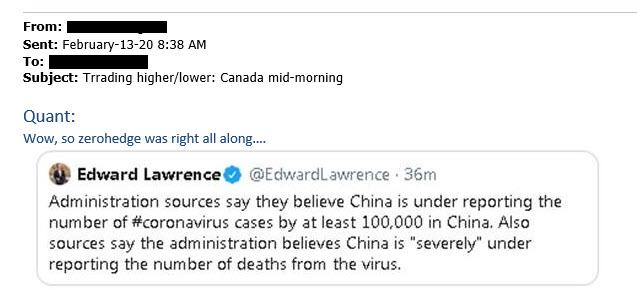 * * *
As an appendix, here is some additional data on how the latest "official" numbers stack up, courtesy of JPM:
Infection rate: Total infected toll jumped by 34% on 12-Feb, reflecting the revised diagnosis guidelines in Hubei province, which include the clinically diagnosed cases in the Confirmed Cases category. Excluding Hubei province, the growth in the infected toll decelerated for the 9th consecutive day to 2.8% d/d.
Mortality rate (total): Due to the jump in total infected toll, the nationwide mortality rate decreased to 2.29% from 2.49% after the upward trend in the previous six days.
Mortality rate (Hubei province): As a result of the large increase in the infection toll, the mortality rate came down to 2.72% on 12 February from 3.20% on the previous day.
Mortality rate (ex-Hubei province): The mortality rate slightly increased to 0.49% from 0.40% on the previous day, extending the overall upward trend to the 8th consecutive day.
Recovery rate (= recovered/infected): The overall recovery rate declined by 1%p to 10% on 12-Feb, led by a sharp increase in the infected toll. In Hubei province, the recovery rate moderated to 7% from 8% on the previous day as well. However, excluding Hubei, the recovery rate grew to 21% from 19% on the previous day.

Source: Zerohedge.com
Visited 123 times