Shocking new video out of Mayagüez, Puerto Rico shows a Tesla Model X going bezerk while attempting to park.
The incident reportedly occurred last Saturday in front of a bakery on Calle de la Candelaria street.
The Model X was attempting to park next to a Toyota Tacoma pickup truck, when it suddenly sped up, smashing into the front of the truck. From there, the Model X narrowly avoids a woman that was getting out of the truck on the passenger side before the vehicle shoots across two lanes of traffic, destroying a street sign and narrowly missing another pedestrian.
<!–[if IE 9]>
<![endif]–>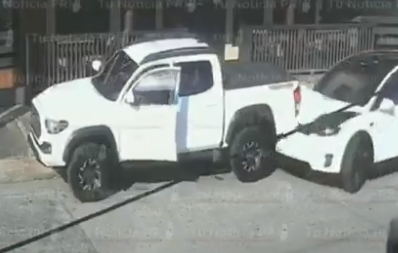 Then the car starts driving wildly, in circles and out of control, before finally coming to a halt in the middle of the street.
Other vehicles passing the car missed it by extremely thin margins and fortunately, the two pedestrians involved were not injured.
According to Tu Noticia PR, the driver claimed "that the electric Tesla vehicle suddenly accelerated."
A full video of the incident was posted on Twitter.
Wow. Someone must have named his Tesla Christine.$TSLA $TSLAQ #テスラ #CYAZ #テスラ #モデル3 https://t.co/GjSXTDSgbX pic.twitter.com/WhqaQ1aE7z

— Kawasaki_KR-1 (@KawasakiKR11) August 14, 2019

Source: zerohedge.com
Visited 121 times